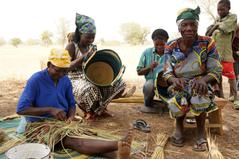 Trade Aid Integrated, Ghana
$0.00
TradeAID Integrated seeks to help the productive poor to create and manage viable ventures for sustained poverty reduction and wealth creation.
TradeAID Integrated was formed in 2000 to contribute to poverty reduction efforts in northern Ghana using the approach of enterprise development. Northern Ghana has the highest poverty rates in the country, but the area lacks institutional support for the informal sector which could play a role in reducing poverty. TradeAID thus works to respond to this need. 
TradeAID Integrated focuses on enterprise development to support sustainable and vibrant indigenous livelihoods for the poor. This approach is based on our belief in the power of entrepreneurship to create wealth. Our strategy is built on the four principle components of:Market Access, Business Services, Financial Services and Business Advocacy. 
Since the inception of the organisation, it has designed and implemented a number of projects aimed at contributing to the poverty reduction efforts of the Government of Ghana. Among these projects include a five year integrated livelihood project funded by Oxfam GB, a Sustaining Rural Livelihood Project funded by Canadian Feed The Children, a Basket Weavers Support Project, micro-credit lending and financial services, livestock and farm inputs, and much more. WFTO member.